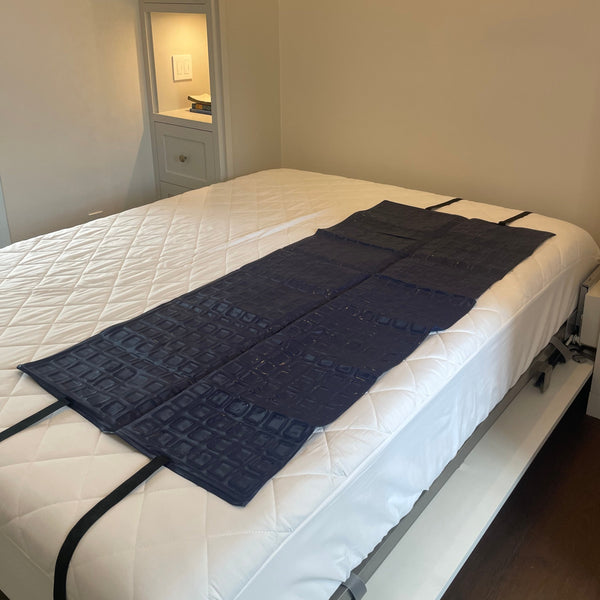 Standard Cooling Pad
Sleep Cool and Save Energy with our Standard Cooling Pad. This Cooling Pad provides maximum cooling with minimal energy use. It comes in a variety of sizes ranging from Pillow, Small, and Large. Save money by purchasing our 2-pack. 
This cooling pad is ideal for someone who prefers an intense chill when they sleep. 
Cooling pads are wear items...over time repetitive rubbing and folding can lead to weak spots, so replace your cooling pad every 3-6 months or as needed.
Product Information
Size

Small 27" x 63" perfect for Twin, Full, Queen, or King Mattress

Pillow 24" x 12" perfect for pillow, chair, or child

Large 55" x 63" perfect for Full, Queen, or King Mattress

Material

PVC

Recommended Temperature

75F, adjust temperature higher or lower based on cold tolerance.

Compatible Units

Mattress Cooler Classic, Mattress Cooler Deluxe

Tubing

Packaged inside the folded pad. 

Duration

3-6 Months

Warranty

90 days
We now offer a 3 pack of used/returned 27x63 pads. These are clean and in good shape...most have likely been used only for a few days. However they are untested and do not come with a warranty.
Cotton Cooling Pad 
Our Cotton Cooling pad provides the cold you love with a softer touch. Up until now, our Mattress Coolers have come with our Standard Cooling Pads. They provide an intense cooling sensation with little power usage. For some it is perfect, but maybe you find yourself freezing, or the texture is uncomfortable. Maybe your an active sleeper and find your pad sliding or scrunching. Or maybe you'd prefer a cooling pad that lasts longer. With the Cotton Cooling Pad you no longer have to worry about adjusting your Mattress Cooler or Cooling Pad in the middle of the night!
Comfortable: This cooling pad is enveloped by a soft grey cloth. This buffers the cold water perfectly for someone who prefers a gentle cold sensation when they sleep. 
Cool: In between the layers of cotton, there is tubing evenly distributed to circulate water that has been cooled by your Mattress Cooler. Due to cotton being an insulator, this cooling pad requires low water temperatures (54F-63F) to deliver a noticeable cool. We recommend using this pad with the Mattress Cooler Deluxe. We do not recommend using this pad with the Mattress Cooler Classic.
Durable: The extra padding provided by the cotton prevents friction between you and the tubing. As long as you treat it right you can expect less leaks, and longer usage. Don't forget they are still a wear item and should be replaced every 6 months.
Getting a cold nights sleep has never been more comfortable!
Product Information
| | |
| --- | --- |
| Size | 55" x 63", perfect for Full, Queen, or King Mattress |
| Material | Cotton |
| Recommended Temperature | 60F, adjust temperature higher or lower based on cold tolerance. We do not recommend going below 50F. |
| Compatible Units | Mattress Cooler Deluxe |
| Tubing | Comes attached, in a Cotton Sheath |
| Duration | 6 Months |
| Warranty | 90 days |